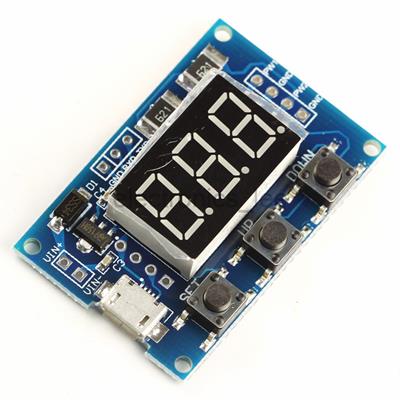 2 Channel PWM Signal Generator Pulse
Giá: 54.000₫ Còn hàng
2 Channel PWM Signal Generator Pulse Frequency Duty Cycle Adjustable
2 Channel PWM Signal Generator Pulse Frequency Duty Cycle Adjustable
Two independent PWM outputs, can set frequency, duty cycle separately
The frequency is divided into three ranges
-XXX(No decimal point): The minimum unit is 1Hz, and the value range is from 1Hz to 999Hz
-XX.X: The minimum unit is 0.1Khz, and the value range is from 0.1KHz~99.9KHz
-X.X.X.: The minimum unit is 1Khz, and the value range is from 1KHz~150KHz
-Duty cycle value range: 0 ~ 100
-Three frequency ranges share a duty cycle, all setting parameters are saved when the power is off.
Module Parameters:
Working voltage: 5--30V, support micro USB 5.0V power supply.
Frequency range: 1Hz - 150KHz.
Frequency accuracy: ± 2%.
Output current: 8-30mA.
Output amplitude: Default 5V V-pp (settable).
Operating temperature range: -30 ~ + 70 ℃.
Parameter Settings:
Three buttons: [Set], [Up], [Down].
Press [Set] key to switch the display of four parameters (FR1: PWM1 frequency; dU1: PWM1 duty cycle; FR2: frequency of PWM2; dU2: PWM2 duty cycle), before switching, there will be corresponding flashing of parameter name.
3. Press [Up], [Down] keys to modify the current parameter value (long press can quickly add or reduce).
4. Two PWM each have three preset frequency, and in the frequency display interface, long press [SET] key to switch between three types of frequencies, three kinds of frequency duty cycle is the same. (XXX: range 1Hz - 999Hz; XX.X: range 0.1Khz - 99.9Khz; X.X.X.: range 1Khz 150Khz,).
Ứng dụng sản phẩm