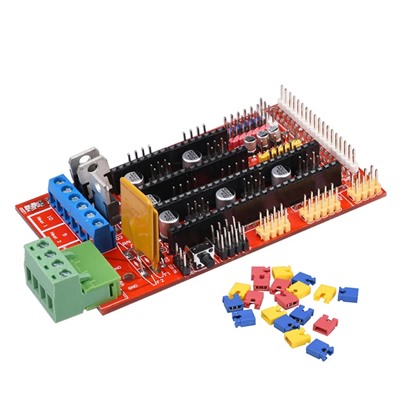 3D Printer Controller Board RAMPS 1.4
Giá: 80.000₫ Còn hàng
3D printer board control board MKS BASE2 V1.0 integrated board with SD card for metal chassis module
3D printer board control board MKS BASE2 V1.0 integrated board with SD card for metal chassis module
- For metal casing printers, it is prone to produce interference via connecting mainboard with cable. MKS BASE2 solves this problem by integrating the SD card directly on the main board.Then,it is perfect anti-interference and excellent stability.
- MKS BASE2 Uses 8825 instead of 4982, which can support 32 and 16 microsteps.
- SD card slot on LCD 12864 or 2004 will be not available.
- In order to reduce the interference, MKS BASE2 increases large filter capacitance on power section.
- Other functions are exactly the same with MKS - BASE.
Features :
- All functions integrate in one board that simplifies combination of interfaces on Ramps1.4 and solves failure-prone problem.
- Use 8825 as motor drive, pack in SOP .
- 4 layers PCB, optimize heat dissipation.
- Support 12V-24V power input.
- Can be directly connected Ramps1.4, 2004LCD control panel.and 12864LCD control panel.
- Firmware can use the same configuration as ramps1.4 .
Ứng dụng sản phẩm