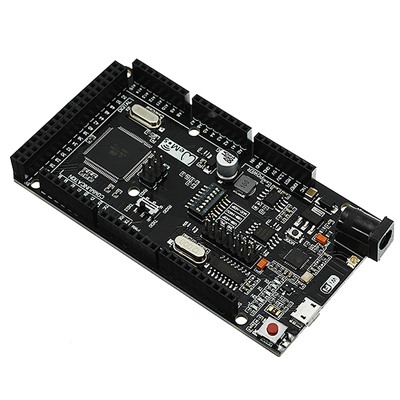 ATmega2560+ESP8266 WiFi
Giá: 310.000₫ Còn hàng
Mega 2560 PRO (Embed) CH340G/ATmega2560-16AU, with male pinheaders. Compatible for Arduino Mega 2560
Mega ATmega2560 Robotdyn R3 + WiFi + USB-TTL 32Mb ESP8266 CH340G for Arduino development board
Supply voltage: 7 ~ 15V introduced
Number: MEGA + WiFi-R3-AT2560-ESP8266-CH340G
is_customized: Yes
MCU: ATmega2560
MCU WiFi: ESP8266
USB adapter: CH340G
Pinout U: MEGA R3
Description:
Fully integrated on a table: Mega ATmega2560 R3 and WiFi ESP8266 with memory 32Mb (megabit). All modules can work together or each module separately. And everyone has their own header pinout.
Convenient solution for the development of new projects and the request U no WiFi.
Via USB, you can update the program outline and basis for ATmega2560 and ESP8266. For this on board with USB serial adapter CH340G.
Use this table is very simple.
EMBED circuit breaker panel, to connect the modules.
For example, to USB and ATmeg2560, USB and ESP8266, ATmega2560 and ESP8266.

Ứng dụng sản phẩm