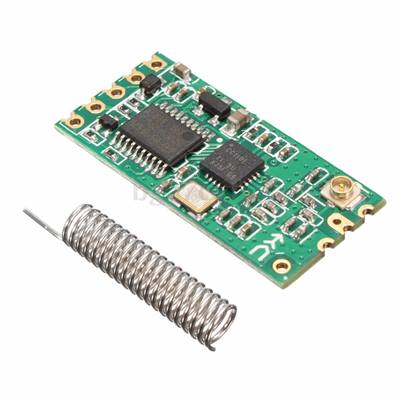 HC-11 433MHz
Giá: 130.000₫ Còn hàng
HC-11 433Mhz Wireless to TTL CC1101 Module
HC-11 433Mhz Wireless to TTL CC1101 Module
Module size: 27.8mm*14.4 mm*4 mm.
Silent current 3. 4mA, ultra-low power consumption.
Long distance, range 1 to 40m.(less than 1 m, module can't work normally).
Support 3.3V~5V.
Support serial pass-through mode, replacing serial line (half duplex).
Support IO level,also means transmitting digital level model.
Support IO level latch mode.
Can set the frequency point, set the address, automatic filtering.
Suitable for network design.
NOTE: HC-11 can not connect to HC-12.They working independently.
Ứng dụng sản phẩm