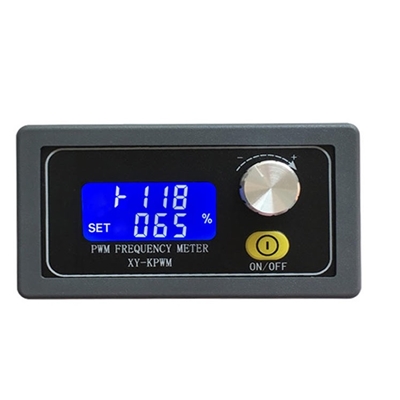 PWM Signal Generator Frequency Meter XY-PWM
Giá: 125.000₫ Còn hàng
PWM Signal Generator PWM Frequency Meter XY-PWM Duty Cycle Adjustable Square
PWM Signal Generator PWM Frequency Meter XY-PWM Duty Cycle Adjustable Square Wave Output Meter
Main Features
1. Dual adjusting mode,0.1% duty cycle step in fine mode.
2. LCD screen clearly displays frequency and duty cycle.
3. Using encoder potentiometer to set the frequency and duty cycle separately.
4. With locking function to prevent wrong operation;
5. Wide frequency range, high precision;
6. Support for serial communication, TTL level.
7. Have ON/OFF button to control output signal output ON/OFF.
8. Integration panel cut-out / hole opening size: 76x40 mm
Technical Parameters
1. Working voltage: 3.3 ~ 30V;
2. Frequency range: Normal Adjusting Mode:1Hz ~ 150KHz Fine Adjusting Mode:1Hz~15KHz
3. Frequency accuracy: the accuracy in each range is about 2%;
4. Signal load capacity: the output current can be about 5 ~ 30ma;
5. Output amplitude: PWM amplitude equals to the supply voltage;
6. Ambient temperature: -20 ~ +70 ℃.
Typical Application:
1. Used as a square wave signal generator, generate square wave signal for experimental development and use;
2. Used to generate a square wave signal that controls the motor driver;
3. Output adjustable pulse for MCU use;
4. Output adjustable pulse, control the relevant circuit (PWM dimming speed and other applications).
Ứng dụng sản phẩm