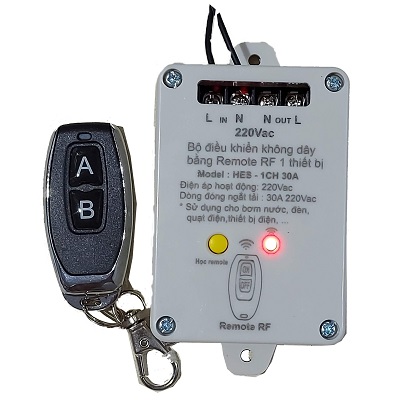 Remore + Module RF 315Mhz HES-1CH-30A
Giá: 145.000₫ Còn hàng
Wireless RF Remote Control Switch Transmitter Module+Receiver 3000W 220V 30A 1CH
Wireless RF Remote Control Switch Transmitter Module+Receiver 3000W 220V 30A 1CH
Working voltage: AC200-240V
Operating temperature: -10 ℃ ~ 60 ℃
Working frequency: 135MHz
Receiving sensitivity: ≥ -105db
Maximum load: 3000W
Remote control distance: 50-100 meters
Product dimensions:
Remote device box size: 85 * 60 * 35mm
Equipment box material: ABS
Product operating instructions:
Learning functions:
Remote learning mode: press the remote study button for the green light and then release the button. Press any button of the remote control the green light flashes the remote learning successfully.
* Can store 10 remote fixed codes EV1527, PT2262 ...
Code deletion method:
Press the learn remote button for the light to light green and hold the button while the green light goes off clears the remote code successfully.

Fixed remote controller press "A" key to open, press "B" Off The output controller can be changed, press "A", press "A" to turn off
Ứng dụng sản phẩm