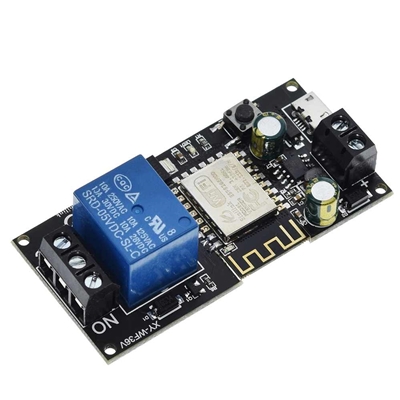 WIFI RELAY ESP8266 MODULE SINILINK DC6V-36V
Giá: 125.000₫ Còn hàng
Control Relay Switch Module Sinilink Smart Home Wireless Smart Control Device DC 12V 24 V DC6V-36V
Control Relay Switch Module Sinilink Smart Home Wireless Smart Control Device DC 12V 24 V DC6V-36V
Technical parameters:
Product name: XY-WF36V WIFI Switch Module
Product number: XY-WF36V
Working voltage: DC 6V-36V
Load voltage: DC 0V-30V & AC 0-250V
Load current: 10A (maximum)
WIFI standard: 2.4 GHz b / g / n
Operating temperature: -20oC ~ 70oC
Operating humidity: 5% -90% rh
Size: 65 * 32 * 19mm
Description:
1. Home automation is the "Internet of things". It simply means how all devices or devices are connected together to give customers seamless control over their home appliances.
2. This module is an affordable device providing the user with smart home control. This is a WiFi-based wireless switch that can connect to a wide variety of devices. It transmits data to the cloud platform via a WIFI router, allowing users to remotely control all connected devices, via the Sinilink mobile app.
3. This module makes all home appliances smart. As long as the mobile phone has a network, users can remotely control the device from anywhere, anytime. Another available feature is time scheduling for devices, which can include a countdown, scheduled on / off and thus, can help users maintain life with ease.
4. It supports connecting and controlling a home appliance, which can be turned on / off using the Sinilink app and buttons on the module. It works in self-lock mode and Inching mode. In self-lock mode, users can independently turn on / off a connected device. In inch mode, users can turn on connected devices in 1 second. Working mode change at APP.
Featured:
1> .Supports Control APP;
2> .Supports the control button;
3> .Supports status tracking, timely response home appliance status for your App;
4> .Supports remote turn on or off device;
5> .Supports single time duty / repeat / countdown;
6>. Import multiple WIFI smart switches in one account;
7> .Support self-lock mode switch;
8>. Support countdown timer and scheduled timer;
9>. Share control support;
10> .Support iOS and Android;
11>. Easy to install, easy handling and can be activated instantly and stably;
12> .APP supports multiple languages;
Function:
1. Schedule according to the schedule
User can pre-set recurring or one-time schedule to turn on / off the device according to your needs. Imagine that the lights turn off in the evening (10:00 pm) and automatically in the morning (7:00 am) every day.
2. Countdown timer
Countdown timer allows user to turn on / off the device at the time of countdown. This feature supports countdown times up to 24 hours. It can be widely applied to devices with batteries for charging. Just imagine you have your mobile phone stop charging after 3 hours of countdown.
3. Loop time
Sinilink is the first smart home APP in the domestic market to release a powerful loop timing function. Stopwatch allows users to turn on / off the device at predefined intervals and run for a specified time. With loop timer, you can perform device initialization every 30 minutes and last for 10 minutes at a time.
4. Group functions
It allows users to assign all devices to be added to different groups so that they can easily test and manage the devices. To use this feature, simply click the drop-down menu at the top of the device list.
Create a group called 'My Classroom' and add all of the classroom appliances to the group for convenient management.
5. Control sharing
Device owners can share control of their device with other Sinilink users. Invite your family members to control your smart home together!
Tap 'SHARE' and enter the Sinilink ID you want to share with (phone number or email address), making sure that person is also online. Once the invitation is confirmed, he / she will have control over your devices.
Working mode:
1. It can only work in self-lock mode and inch mode.
2. Switch working mode at APP.
3. Self-lock mode: For example, if the user turns on, the connected device will continue. If the user turns off, the connected device turns off.
4. Self-lock mode: Example: Press the button, the relay will continue; Press again, the relay turns OFF.
5. Doze mode: This is also unlocked mode
6. Inch mode: User can turn on the connected devices for 1 second or set at APP.
7. Inch mode: For example, user can turn ON the connected device for 1 second, then turn off automatically.
8. Inch mode: Example: Press button, Relay will continue for 1 second and then transition to OFF automatically.
APP Sinilink Smart control:
1. The module can be controlled by APP smart control.
2. It can Add / Share / delete device, delay setting, APP remote control, get working status, etc.
3. Default touch pairing mode, after power on, no need to set up, use direct APP connection.
4. Pairing steps:
Step 1: Install and register APP Sinilink, choose appropriate language. Users can get the APP for 'APP Store' or 'Google Play' or Sinilink's official website.
Step 2: Connect a work power supply at the input input. (Note: Please do not connect to the load before pairing and testing.)
Step 3: Make sure the module is within WIFI range and the phone connects to the same WIFI router.
Ứng dụng sản phẩm