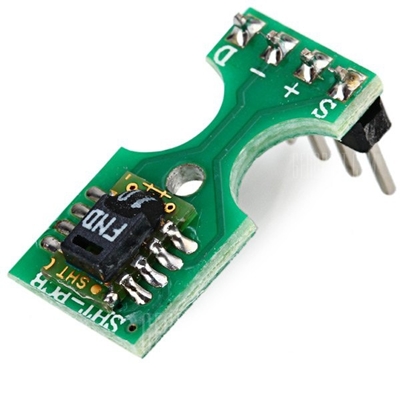 SHT10 Temperature and Humidity Sensor Module
Giá: 115.000₫ Còn hàng
Humidity and Temperature Sensor
Please note that only using the sensor in a moisture-laden environment, special environments such as black annealing, and anaerobic digestion will produce fungi and bacteria that stick to the surface of the sensor. sensor damage.
The SHT10 humidity sensor is used for Sensirion's low-cost, humidity and ambient temperature sensing applications with 4.5% accuracy and 0.5% temperature accuracy. The circuit is compact and easy to communicate with microcontrollers with only two pins, one is S (sck) and two is D (data).
Specifications:
Supply Voltage: 2.4 ~ 5.5VDC.
Humidity range: 0 - 100% RH.
Humidity accuracy: ± 4.5% RH.
Temperature range: -40 ~ 123.8 ℃.
Temperature accuracy: ± 0.4 ℃.
Output signal: digital.
Dimensions: 21 x 12 x 20mm.
Connection diagram:
Foot S: clock pins.
Foot +: Power supply positive.
Foot - the source of the sound source (mass).
Foot D: foot data.
Ứng dụng sản phẩm