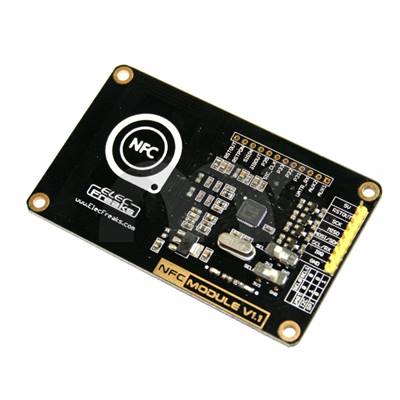 Reader NFC PN532
Giá: 450.000₫ Còn hàng
13.56MHz NFC / RFID Module PN532 Development Board w/ PCB Antenna / Cipher Key
13.56MHz NFC / RFID Module PN532 Development Board w/ PCB Antenna / Cipher Key
Introduction:
- NFC / RFID Module is a close range wireless communication module, compatible with Arduino / AVR / ARM / STM32 singlechip development board;
- With transparent password card,
- Built-in PCB antenna
Features:
- Arduino /AVR/ARM compatible
- SPI / IIC optional, through switch-0 and-1
- On board antenna
- 5V power supply
- Size : 85mm x 52mm
Application Ideas:
- Use as a RFID reader with Mifare One tags (ISO14443 Type-A) and cards (13.56Mhz).
- Build visiting card sharing system.
- Build attendance systems.
- Design authentication systems.
- Read Smart Posters.
- Securely exchange small data with other NFC devices
- Use with Seeeduino ADK Main Board for creating mobile NFC applications.
- And other endless possibility.
Ứng dụng sản phẩm